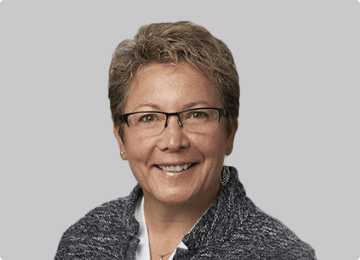 Dr. Tammy Gocial has served in a variety of administrative roles in different higher education settings for over 30 years. Currently, she serves as the Dean of the John E. Simon School of Business after having served for 10 years as the Associate Academic Vice President at Maryville University in St. Louis, MO.
As Dean, Dr. Gocial works closely with full- and part-time faculty in the School's 10 undergraduate and 6 graduate programs that are delivered face-to-face and online. She leads faculty in the review of curriculum, market-driven new program development, and program assessment; develops and supports new initiatives in active learning and diversity and inclusion; and serves as a liaison with Enrollment, Development and Alumni Relations, Operational Excellence, Student Life, and Student Success divisions. Dr. Gocial is a member of the Deans' Council and the President's Advisory Council.
Dr. Gocial teaches courses in leadership, and conducts research in self-authorship and thriving among college students, growth mindset, and perceptions of race in leadership. She served as the founding Director of the doctoral program in Higher Education Leadership and her primary areas of consulting are in leading change, and leadership and diversity in higher education.
Dr. Gocial earned a Bachelor of Science degree in Education from Northwestern University (1986), a Master of Arts degree in College Student Personnel from Bowling Green State University (1989) and a Ph.D. in Applied and Experimental Psychology from Saint Louis University (2001).