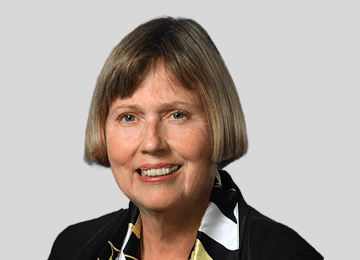 Mary Sumner is Emerita Professor of Computer Management and Information Systems and has served as Associate Dean, School of Business, Southern Illinois University Edwardsville. She is a Senior Scholar within the Association for Information Systems (AIS). Prior to her role at SIUE, she was on the faculty of New York University. She built the undergraduate and graduate programs in CMIS and has taught for 32 years in the areas of management of information technology, information systems design, project management, health informatics, and enterprise systems implementation. She served as Program Director for the Master's in Health Informatics at BJC Healthcare, and teaches in the program. Dr. Sumner serves on the faculty of the School of Engineering at Washington University in St. Louis, teaching courses in Finance and Enterprise Systems and the University of Missouri St. Louis, teaching courses in MIS.
In her role as Associate Dean, School of Business at SIUE, she organized business/university partnerships and executive programs in leadership, project management, construction leadership, and health informatics. She taught enterprise systems design and configuration courses at the Norwegian School of Logistics, and taught executive MBA courses in the management of information technology in Hong Kong and Singapore. Dr. Sumner served as chief information officer for academic affairs and was responsible for organizing and managing information services to support the quality and effectiveness of academic programs at SIUE.
She has written seven textbooks, including college texts in Management Information Systems and Enterprise Resource Planning, and has published over forty research papers on enterprise resource planning, IT workforce issues, project management, and health informatics. Her research has appeared in Database, the Journal of Systems Management, Information and Management, the Journal of Computer Information Systems, Information Resource Management Journal, the Journal of Strategic Information Systems, and the Journal of Information Technology.
Dr. Sumner served as Conference Co-Chair, International Conference on Information Systems (ICIS), and is Vice-President for Academic Affairs for the Society for Information Management (SIM). She oversees a CIO forum and participates on the Project Management Advisory Board. Her education includes a B.A. Syracuse, M.A., University of Chicago, M.A., Columbia University, and Doctorate, Rutgers University. Her certifications include Oracle Master's and AMIA Health Informatics.